Articles
Wasps on Autopilot
Katharine Merow asks what's buzzing around in the head of the Sphex wasp.
Folks who think about thinking for a living have a favorite genus of wasp. These cognitive scientists and philosophers of mind dig those insects whose scientific names begin with Sphex: Sphex ichneumoneus, Sphex diabolicus, and what I presume to be the king of them all, Sphex rex. Laymen, who prefer English descriptions of insects to the invocation of Linnaean Latin, call these six-legged stingers 'digger wasps' or 'cicada killers'. There are over 130 known species.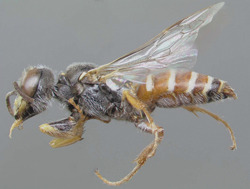 Sphex
wasp
They have delicately-furred thoraxes that taper to the original wasp waists.
…
This article is available to subscribers only.
If you are a subscriber please Log In to your account.
To buy or renew a subscription please visit the Shop.
If you are a subscriber you can contact us to create an account.