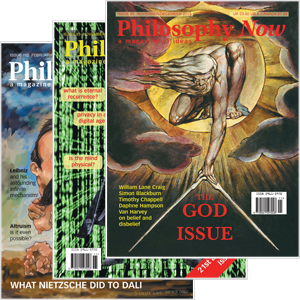 Your complimentary articles
You've read one of your four complimentary articles for this month.
You can read four articles free per month. To have complete access to the thousands of philosophy articles on this site, please
News
News: November/December 2013
Arthur Danto • Gunfight at the IK Corral • 3 million Welsh become organ donors • Pope says atheists may not be damned — News reports by Sue Roberts
Arthur Danto Dead
The philosopher, aesthetician and art critic Arthur Danto has died in New York aged 89. He taught philosophy at Columbia University for over 40 years. After Andy Warhol created Pop Art with his 'sculptures' of Brillo Boxes, looking just like boxes in the supermarket, Danto was initially perplexed: How could this be art? In response, he created an influential theory about the nature of art. According to Danto, something is art if it occupies a place in an artworld. An artworld is a kind of artistic conversation, extended over time. Within an artworld even an ordinary box of Brillo Pads can be art if it is put into a gallery at the right time. Danto claimed that the history of art is coming to a close as art collapses into philosophy. Danto also wrote books summarizing the works of Continental philosophers in terms that made them more accessible to philosophers in the Anglo-American tradition. With this in mind, Daniel Dennett's Philosophical Lexicon defined an arthurdantist as "One who straightens the teeth of exotic dogmas. 'Little Friedrich used to say the most wonderful things before we took him to the arthurdantist!' – Frau Nietzsche." At the age of 60, Danto took a post as art critic for The Nation magazine, a job which he then continued for 25 years.
Just Don't Doze Off
From December 2015 the entire population of Wales will be presumed to have agreed to donate their organs after death, unless they actively choose to opt-out. Carwyn Jones, First Minister of the National Assembly for Wales, described the Human Transplantation (Wales) Act 2013 as "arguably the most significant piece of legislation passed by the Assembly since it acquired full lawmaking powers in 2011." This will make Wales the first UK nation to introduce such a system rather than relying on the voluntary, donor card-carrying scheme that exists at present. The law is motivated by the desire to save lives: according to the NHS, three people die every day in the UK due to a lack of organs for transplant and around 7,000 people are on the waiting list. The equivalent figures for the United States are 18 per day and 120,713 respectively.
Pope Says Atheists Not Necessarily Damned
Pope Francis has continued to move away from the ultra conservative image of the Catholic Church reinforced by his predecessor Benedict XVI. In response to a list of questions posed in La Repubblica newspaper by the founder Eugenio Scalfari, Pope Francis wrote, in an open letter "You ask me if the God of the Christians forgives those who don't believe and who don't seek the faith. I start by saying – and this is the fundamental thing – that God's mercy has no limits if you go to him with a sincere and contrite heart. The issue for those who do not believe in God is to obey their conscience."
Mr Scalfari, not a Roman Catholic, said the Pope's comments were "further evidence of his ability and desire to overcome barriers and have a more meaningful dialogue with the world." The Italian Union of Atheists and Agnostics failed to be impressed, responding "Why should a non-believer seek legitimisation from the Pope?" In a demonstration of the humbler style of this Pope, he has declined the use of the Popemobile within the Vatican preferring to take to a used Renault given to him by one of the priests.
Kantian Shoot-out
Remember to be especially careful what you say to Kantians, because they can be touchy. In September, the Russian news agency RIA reported that a heated discussion of the philosophy of Immanuel Kant between two men queuing for beer in a grocery store in Rostov-on-Don degenerated into a brawl. At this point one of the men pulled a pistol and shot his interlocutor with a rubber bullet, resulting in hospital treatment. Fortunately, the injuries were not life-threatening. It was not reported which of Kant's ideas were so inflammatory.
Are We Still Evolving?
Broadcaster and naturalist David Attenborough claimed that human beings have stopped evolving physically since we have developed the means to keep even the weakest of our species alive. This means, he says in a Radio Times interview, that we are no longer subject to Darwin's theory of evolution; the only species to bring natural selection to a halt. He suggests that our evolutionary process is now a cultural one. This view is contested by other scientists such as Ian Rickard, an anthropologist at Durham University. According to Rickard and his colleagues natural selection doesn't necessarily depend on survival but rather on who is reproducing and how many offspring they have. This doesn't mean, they believe, that the strongest, or fastest or smartest will necessarily be the ones to drive the evolution of a species. Further, they propose, "as long as our environment is changing – either by us expanding into new places or the climate changing (by natural or unnatural means) – this will push us to adapt, thus bringing natural selection into play again."