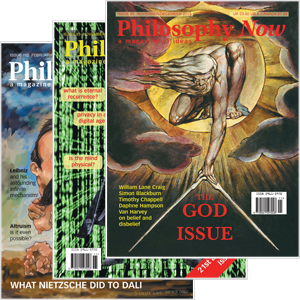 Your complimentary articles
You've read one of your four complimentary articles for this month.
You can read four articles free per month. To have complete access to the thousands of philosophy articles on this site, please
Books
How To Live: Wise (and not so Wise) Advice from Philosophers by Martin Cohen
Patricia Cleveland-Peck gets some 'dodgy' advice from philosophers concerning How To Live.
In the books How To Live, How To Eat, How To Love, Martin Cohen examines the sort of detail most commentators on the great philosophers ignore. From these incidental findings he extrapolates what he calls "practical advice for the reader." Cohen says that in the past philosophy was a practical guide to everyday life, and philosophers were "the go-to experts on everything" and that it is only recently that has philosophy been represented as something "to do with ontology and essences, categorical imperatives and suppressed premises." The idea of turning to the local philosopher to become wise has now become lost, and philosophers have been replaced by scientists and other specialists. However Cohen claims the great thinkers can still advise us even on such things as "where to buy a holiday house, what time to get out of bed, how to chat someone up…" In How to Eat there are even recipes. We have Plato's noble cakes, Rousseau's cold strawberry soup, David Hume's sheep's-head broth and "the secrets of the true Wittgenstein sandwich."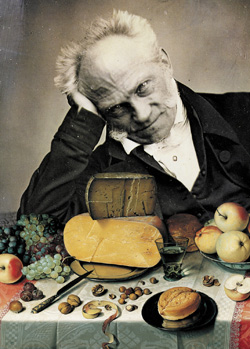 Schopenhauer contemplates a feast
Of course these claims are made tongue-in-cheek. Cohen has collected examples of 'advice' – the more outrageous the better – philosophers have given their pupils or readers in the past, for our entertainment, rather than for us to take seriously, as the chief aim of these books is to entertain rather than to advise. For instance, How to Love presents advice from various philosophers on intimate human relationships; but Cohen points out that wiser souls might well have stuck to discussing ideas – a point one cannot fail to agree with having read of Kant's jaundiced view that sex makes the participant an "object of appetite" subsequently to be thrown away like a sucked lemon, or Aristotle's advice that women should be treated like domestic cattle, or Nietzsche's view of women as "dangerous playthings," or Epictetus's recommendation that all sex is best avoided, thus preventing the possible arrival of "two or three ugly-snouted grunting children…"It would seem that as far as love is concerned, the great philosophers were a pretty miserable bunch, many not marrying at all, and few having rewarding personal relationships with the opposite sex.
How to Live is in fact a compilation containing the other two books plus new sections, including 'How To Act Like, Talk Like, Outrage People Like, Run (Ruin?) Your Business Like, Preach Like, Stay One-Up Like and Die Like – a Philosopher'. It claims to offer "thought provoking life-lessons" based on "seventy five tasty tit-bits of philosophy." We are also given a smattering of random information about the lives and views of a number of philosophers from Zhuangzi of 'butterfly dream' fame, to Sharon M. Kaye, an American academic, on masturbation. Although most are jokey, as in any magpie selection you can find pieces of some value. 'How to Talk Like Philosophers' offers expositions of philosophical arguments as well as its quota of dodgy tips. In any case, Cohen has a refreshingly irreverent view of the value of ancient wisdom, and many of the conclusions of the great thinkers, he says, are simply wrong (hence the 'not so wise' in the subtitles). This is not a work for professional philosophers, nor even serious amateurs, but I was a philosophy undergraduate, and I confess I did find it good fun. It is a rag bag of tit-bits, but it covers a lot of ground, contains numerous quotations, and offers insights into a range of philosophical theories in an easy-to-read, off-the-cuff style that just may lead some readers to want to find out more. Importantly, it achieves the aim, close to Cohen's heart, of removing the off-putting mystique which surrounds philosophy. Cohen's crusade is in fact part of a fairly recent upsurge of interest in popular philosophy. The books are quite funny too.
© Patricia Cleveland-Peck 2014
Patricia Cleveland-Peck is an author, playwright and freelance journalist.
• How To Live, Martin Cohen, Media Studies Unit, 2013, 268 pages, £8.95, ISBN: 0957692757