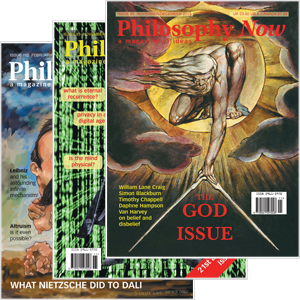 Your complimentary articles
You've read one of your four complimentary articles for this month.
You can read four articles free per month. To have complete access to the thousands of philosophy articles on this site, please
Films
Lost In Translation
Laura D'Olimpio gazes thoughtfully at a postmodern existential Platonic romance.
Two trends from twentieth century French philosophy have been major influences on cinema: existentialism and postmodernism. Sofia Coppola's 2003 film Lost In Translation reflects both. It explores what might be called a warm Platonic love, as depicted in the relationship between Bob (Bill Murray) and Charlotte (Scarlett Johansson), set against the background of Tokyo.
There is relatively little dialogue throughout the film, but its beauty is in how much is conveyed non-verbally, not only through body language, but via cinematography, lighting, editing, and the soundtrack. Lost in Translation sums up the feeling of looking for your place in a world in which you do not automatically belong. Coppola's subtlety in depicting an elusive connection that transgresses the usual categories of what a relationship might look like allows viewers to easily follow the story of Bob and Charlotte, existential characters seeking authenticity and recognition in the eyes of the Other, as they find themselves dislocated in Japan. Their existential angst is reflected in the bright, flashing lights of a city that feels foreign to the two Americans. Yet at the same time, they carry this feeling of isolation around within them as they walk the muzak-infused corridors of the hotel in which they are confined, sleepless and in search of some kind of meaning.
This meaning is not forthcoming from external sources. Neither speak the language, and the scenes of traditional Japan – flower arranging, attending a shrine, watching a geisha walk past – are as mystical to Charlotte as the self-help audio recording she's listening to in search of her 'destiny' while she absent-mindedly smokes the occasional cigarette.

"Lost In Translation sums up the feeling of looking for your place in a world in which you do not automatically belong."
Lost In Translation image © American Zoetrope/Tohokushinsha Film 2003
Convergence
Charlotte has been married for a couple of years to John (Giovanni Ribisi), a photographer whose work has led him to Japan. A recent philosophy graduate with no idea what she wants to do with her life, she tags along with him for a holiday, and while he works she spends her time seeing the sights of the city and staring moodily out of the hotel windows over the unfamiliar cityscape.
Bob is not faring much better. An aging actor, he has been married for about a decade, and has a couple of children whose birthdays he tends to forget. Just as Bob is reaching a midlife crisis he ventures to Japan to shoot a whiskey commercial, with the sole intention of making his money then returning home. His plans begin to alter when he starts to get to know Charlotte.
The two first see each other in an elevator, that perfect symbol of transitory space. This initial contact is visually framed by the many others who are also crowded into the elevator, strangers going about their daily business. And thus the Other is acknowledged and a relationship born. Their fleeting glimmer of recognition is recounted later, once they have grown close. "Did I scowl at you?" Charlotte asks. "No," Bob replies, "you smiled."
Existential Drift
This postmodern romance is imbued with the kind of existentialism developed by Jean-Paul Sartre and Simone de Beauvoir. Writing in mid-twentieth-century Paris, Sartre and de Beauvoir insisted that there is no predetermined essential self for us to 'discover', and no preordained purpose to our lives either. Rather, we are each free to create our lives as we wish, according to values we ourselves choose. As we construct ourselves to be who we desire to be, we are also burdened by our responsibility for the choices we make. The incredible weight of such freedom is ignored by most people, who choose to blame the course of their lives on external factors rather than facing up to the fact that one chooses who one becomes.
We see the burden of freedom weighing on Bob and Charlotte at different moments. Despite all the new sights and sounds, a sense of isolation pervades their experiences, and echoes how each feel in their lives generally. Charlotte admits she feels lost. Bob cannot seem to find any joy in all the shiny new technology at his disposal, nor in being recognised, or photographed, nor in any of the other playful delights he's offered that could occupy his time. The sense of purposelessness that pervades their existence is however replaced by a sense of connection and love, which emerges from their interactions with one another. It is only when they are together that we see them start to smile, to soften, and to have fun.
The Gaze
Despite the differences between them – Bob is a successful and now retired movie star, Charlotte a drifting graduate and aspiring writer – Bob and Charlotte get one another. This connection means that they see one another in a way that is missing from their primary relationships with their respective spouses. As they gaze at one another, they recognise their own reflections as seen by the Other, and slowly begin to be able to see themselves sympathetically through the eyes of the Beloved.
The role of the Gaze is of relevance here. The film commences with a stereotypical male gaze, of Charlotte's rear enclosed in pink panties as she lies on the bed in her hotel room, facing away from the viewer. We as Subjects are invited to consider the aesthetics of the female body as an Object to be looked at and enjoyed by a heteronormative male eye. Yet this gaze is interrupted as the film plays out, since Charlotte is neither sexualised nor portrayed as a submissive object; rather, she is a fleshed-out character with her own musings, desires, and agency. She is later depicted in the same panties in her hotel room with her husband, but what is remarkable is how mundane the scene is. She stubs her toe, and playfully asks John if he really has to go; but we do not see her objectified or sexualised by his gaze. In fact, he seems immune to her charms to a large degree, distracted by his career as an up-and-coming hot-shot photographer.
Meanwhile, Bob's meets Charlotte in the hotel bar, where they bond over their jet lag and insomnia. They then bump into one another a few times inside the hotel, and later decide to venture into the city. The time they spend isolated is gradually replaced by their shared adventures as their relationship grows quickly over the course of the week. They willingly unite as two free individuals who, in a moment in time, in a particular place, feel a kinship that resonates across the social spaces that separate them. They have in common that they are American and bored and lonely. But this is a cynical reading of the film: they also recognise in one another the desire for meaning and a sense that it is up to them as individuals to define their lives. The weight of this responsibility is obviously heavy as they look for signs and clues as to where they should be, or that they are in the right place at the right time. It is only when they're sharing experiences together that a feeling of 'rightness' and the associated peace manifests.
Not that the rightness of them together existentially means that they should be together romantically. Bob and Charlotte have both made prior commitments, and are clear about the confines and boundaries of those relationships and the lives they live back home. But this shared, secret world that neither of them fully understand is real too. In fact, in many ways, it is the most real world, as it becomes the space where they are authentic, not only with one another, but with themselves. They are able to be listened to, heard, and use this reflection of themselves to recall who they are. Often, not even words are required for them to communicate with one another. They sing karaoke; they sit and smoke a cigarette; they watch TV and drink saké; they fall asleep side by side on the bed, his hand resting on her foot. Whether or not this relationship is an 'emotional affair' and as such a betrayal of their marital relationships is almost beside the point. The difficulty they might have in articulating what they are to one another is to the point. After they have become close, Bob ends up having a one night stand with a jazz singer from the hotel, and this tryst leaves him emotionally cold and instantly full of regret. Strangely, this act seems to be more of a betrayal of Charlotte than of Bob's wife, although ironically, his wife would undoubtedly be more upset by the sexual infidelity than by his growing friendship with Charlotte. Obviously, she will not be told about either.
Orientalism & Secrets
The film has been accused of being racist, laughing at the Japanese people and culture rather than with them, mocking their shortness, their swapping of ls and rs, their 'helpful' technology that's difficult to control, and their mimicry of the forms of American culture, as skinny Japanese teens play video games dressed up as rock stars. In response, Coppola protests that her script was based on her experiences in Japan when she was in her twenties and that she loves Japan, its people and culture, and had no intention of mocking them. Coppola's vision of Japan is indeed like that of Bob and Charlotte's – from the outside, looking in from the West.
Though in many ways an existentialist film, Lost in Translation also reflects postmodernism – starting with its title and the suggestion it carries of isolated, disjointed perspectives. And as many postmodern films do, this one ultimately leaves it up to the viewer to decide. You may decide if the Japan depicted is a place you wish to visit, or not. You may decide if Bob and Charlotte are moral, or not, if they will ever see one another again, and whether their respective marriages will last. Ultimately, you must even decide what Bob's last words to Charlotte are, since the ad-libbed whisper by Bob into Charlotte's ear remains a mystery to this day, even to Coppola. This is fitting, as no-one else ever truly knows what goes on inside a relationship, what two people truly mean to one another. That is sacred knowledge for those two alone. Each connection is created by free individuals who themselves imbue those relationships with meaning. This is the mandate of a world without fixed essences.
© Dr Laura D'Olimpio 2017
Laura D'Olimpio is a Senior Lecturer in Philosophy at the University of Notre Dame Australia, a regular contributor to The Conversation and ABC Radio's Philosopher's Zone, Chairperson for the Federation of Australasian Philosophy in Schools Associations, and co-editor of the open access Journal of Philosophy in Schools.