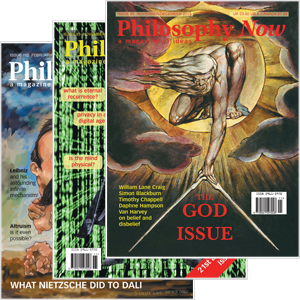 Your complimentary articles
You've read one of your four complimentary articles for this month.
You can read four articles free per month. To have complete access to the thousands of philosophy articles on this site, please
Poetry
A Case of Fire
by Richard Lawson
One day when I was working
Some smoke got up my nostril
I left my things and went outside
As fast as I was able.
When I got outside the door
A man in strange attire
Was pouring petrol on the floor
And setting it on fire.
"Oy oy ahoy hey hoy" I said
As matches scrape and rustle
"Don't burn my house, you'll burn my house."
He said "I've studied Husserl."
"You studied Husserl well so what?"
Said I with eyeballs gleaming.
He said "He says the house you got
With money, has no meaning."
Said I "Ah now I get your point,
You mean, to put it cleanly,
All meaning is invested in
The act of our perceiving."
"The act of seeing, yes that's right"
(With earnest knowledge teeming)
"The bricks and mortar catch alight
But not the house's meaning."
"But Neddy lad" I answered back
"The main point you're not grasping.
'twas Plato's ideals, not Husserl's
that were from everlasting."
"What do you mean?" he answered back
(but I could see it blinched him)
"You understand, you must" I said
"that change is now the lynch pin.
"Yes, change that all things suffer must"
(I stamped it on his cortex)
"Look at my house, you'll see it just
One great big flaming vortex.
"What once meant house right now means fire
Tomorrow will mean ashes
It's true that meaning can't be burnt
It's also true it changes."
"O gosh," he said, "I see it now,
I've been and burned it outright.
I must have misconstrued the text.
I really am most contrite."
"That's quite all right," I answered back,
"Experience is boxwood,
And I have just now come to learn
The usefulness of Oxford."
"Not Ayer's lot?" he said distraught
(For he could see my learning)
I say "Since Oxford comes to naught
It never comes to burning."
© Richard Lawson