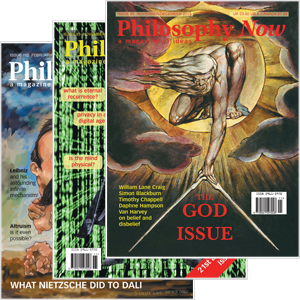 Your complimentary articles
You've read one of your four complimentary articles for this month.
You can read four articles free per month. To have complete access to the thousands of philosophy articles on this site, please
News
News: October/November 2003
World Philosophy Day • Monkeys Sense Injustice • Donald Davidson Dies • UK Govt. Gets Religion • Theology Students Get Nothing — News reports by Sue Roberts in London and Lisa Sangoi in New York
Animal Ethics
A research team at Emory University in Atlanta, Georgia claims to be the first to demonstrate scientifically that non-human animals have a sense of justice. Pairs of brown capuchin monkeys were given 'tasks' to perform. If they were successful, each monkey received a piece of cucumber. However, when one of the pair received a tastier morsel for carrying out the same task, or even no task, its partner would stop performing or refuse the proffered cucumber. We all know human animals who 'sulk' over lesser injustices than this!
The State and Religion: Pro...
Tony Blair is to allow Christian organisations and other faith groups an unprecedented role in policy-making in the UK.
A working group chaired by Home Office Minister Fiona MacTaggart will have an input across government, advising the Departments for Education, Culture, Media & Sport and Trade & Industry. Membership of the committee will include representatives Christian denominations and of the Jewish, Sikh, Muslim and Hindu faiths. This move on the Prime Minister's part is entirely in keeping with his strongly Christian views. While Christian organisations have welcomed the project as a means of engaging in policy issues and addressing values in public life, the National Secular Society has expressed concern that the nonreligious would feel "alienated and excluded from the political processes that help shape society."
...and Anti
A theology student at Ave Maria College in Yspilanti, Michigan, experienced an abrupt reduction in her financial aid from $2,750 to $0 in the middle of her freshman year. In a letter paraphrasing a state law, state officials explained that "Students enrolled in a course of study leading to a degree in theology, divinity or religious education are not eligible to receive an award. Your award has changed from $2,750.00 to $0.00."
Eleven states prohibit aid for the study of theology: Michigan, Washington, New York, New Jersey, Alabama, Louisiana, Missouri, Oregon, South Carolina, South Dakota and Wisconsin. A case from Washington state, involving similar issues will be decided by the United States Supreme Court in its next term.
Donald Davidson
Donald Davidson, one of the greatest American philosophers of the late 20th century, died on August 30 in Berkeley, California. See full obituary on page 45.
Milton Konvitz & James Rachels
Milton Konvitz, an authority on constitutional and labor law, and civil and human rights, died on September 5 at the age of 95. As well as helping to draft the Liberian constitution, he wrote numerous books and articles on American constitutional law that won him wide recognition and were cited in U.S. Supreme Court opinions. Konvitz was a founder of the Cornell University's Department of Near Eastern Studies and its Program of Jewish Studies.
The same day also saw the demise of Dr James Rachels, a philosopher, medical ethicist and professor at the University of Alabama. He wrote some of the most influential works on euthanasia, his trademark argument being that actively killing a patient with a terminal illness was no worse morally than letting the person die by doing nothing.
Mastering American Philosophy
Inspired find out more about American philosophy? A new masters program with two areas of concentration, American philosophy and bioethics, will be launched this Fall at Indiana University - Purdue University Indianapolis (IUPUI).
Two internationally-acclaimed scholarly editions, the Writings of Charles S. Peirce and the Works of George Santayana, are edited in the department and this has resulted over the years in an accumulation of American philosophy specialists and an extensive research collection. The Max H. Fisch Library houses many key collections related to American philosophy, including the libraries and papers of a number of prominent Pragmatists. The focus of the American Philosophy program will be on American Pragmatism and its relation to the analytic tradition, with a special emphasis on the work of Charles S. Peirce. Details of the program can be found at http://www.iupui.edu/~philosop/.
Happy Philosophy Day!
UNESCO has announced that the second international Philosophy Day will be November 20th. The purpose is to raise the public profile of philosophy, and apart for an ambitious program of activities at UNESCO's headquarters in Paris, smaller events are being organized in countries worldwide. Last year's Day was criticised for having a low profile in the Englishspeaking world, so this year Philosophy Now will be lending a hand. We will be organising events in London and in Rochester, NY – please keep an eye on our website for more details.
Plato and Pratchett
'Citizenship' is a buzzword currently much heard in British educational circles, but many schools have yet to incorporate it into the curriculum. Teacher Michael Brett of Lochinvar House School in Potters Bar feels, however, that the study of philosophy will enable his students to participate more ably in such classes. Twelve of his pupils – with an average age of 12 years – have passed a Philosophy AS paper on the topic of Plato's Republic. They were apparently particularly interested in Plato's cosmology which, Brett says, reminded them of Terry Pratchett's 'Discworld'. The students complete the remaining AS papers in the coming year. Brett observed that "children of this age still seem to have a sense of wonder and their minds are still uncluttered by other things."