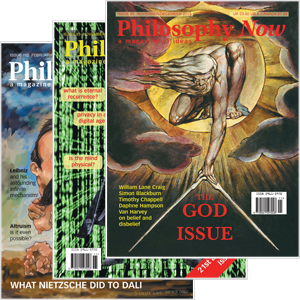 Your complimentary articles
You've read one of your four complimentary articles for this month.
You can read four articles free per month. To have complete access to the thousands of philosophy articles on this site, please
Books
Encyclopedia of Ethics
Kenneth Shouler praises Lawrence and Charlotte Becker for producing an encyclopedia of ethics which is truly encyclopedic.
When it comes to good encyclopedias, size matters. A publisher once said that the purpose of creating these book behemoths is to fashion works of "mind-numbing thoroughness." Aside from satisfying people's urge for completeness, such comprehensiveness has the marketing effect of making competition unthinkable. This is certainly the case with the Encyclopedia of Ethics, (2nd edition, Routledge, 2001), unless someone out there – in a spirit of great ambition and considerable masochism – dares to spend his time trying to exceed its 1,977 pages.
For this three-volume tour de force two people were responsible for the lion's share of the work. Lawrence Becker, Kenan Professor in the Humanities and Professor of Philosophy Emeritus, College of William and Mary, as well as a Fellow of Hollins University; and Charlotte Becker, a retired catalog librarian, edited and organized 581 entries in the second edition (compared to 435 in the first).
Besides the increase in entries, the trim size of the second edition has increased, giving the set a much larger feel. The first edition (two volumes, 1,462 pages) boasted a healthy trim size of 7 x 10 inches. The second edition grew to 8 1/2 x 11 inches.
The breadth of topics appears to have left no ethical stone unturned. The set begins with 'Peter Abelard' and ends with 'Work, the Ethics of.' A casual flip through its two-columned pages turns up both expected and unexpected pearls: 'agent-centered morality,' 'alienation,' 'Buddhist ethics,' 'Hindu ethics,' 'The Golden Rule,' 'logic and ethics,' 'Self-deception,' 'sport,' and even 'torture.' Also, the second edition made improvements – like including an entry for 'deontology' that was missing from the first.
Unlike other reference works, the breadth here doesn't come at the expense of depth. The entries average 1,000 to 4,000 words, plus bibliography (the bibliographic entries are thorough enough that someone desirous of more information can jump to most any place he wants). So lengthy was the entry 'A History of Western Ethics,' that the publishers of the first (Garland, 1992) and second editions were able to carve out a separate 60,000-word volume for publication. The second 'History' (Routledge, 2003) possesses an expanded bibliography and a glossary. In both editions the entries are signed. In addition, included are a table (list) of entries and two indexes – a subject index and a citation index. The latter is rare in reference books.
The second edition also includes entries for some moral philosophers who have passed on since the first edition appeared, including Elizabeth Anscombe (1919-2001), William Frankena (1918-1994), H.L.A. Hart (1907-1997) and Iris Murdoch (1919-1999).
The story of the Encyclopedia is as much process as final result. The idea for the work came from Gary Kuris of Garland Publishing in the fall of 1986. The first major problem was getting a table of entries designed, by way of a distinguished editorial board. Lawrence's original proposal was for a reference work of about 350 entries. Once the board had its say the number swelled to 1,200 possible entries before being pruned down to the size that eventually went to press. Board members also suggested authors, and agreed to serve as peer reviewers for submitted entries. All work by the Board was uncompensated. A four-year timetable was agreed upon.
Then Lawrence and Charlotte Becker (who have been married for 37 years) set out to tackle the enormous pile of copy. For the first edition materials were being collected before anyone had email. All correspondence was in hard copy. Entries had to be scanned to disc and those that came in electronically often had to be converted from eccentric word processing software. Professor Becker recalled that only about a third of all submissions came on disk. This left much of the copy-editing and proofing of the more than one million words to be done on hard copy.
In all but a few instances Lawrence was able to give philosophers a year to submit and most met the generous deadline. Some 10 percent of the authors were ultimately unable to do the entries they initially accepted, so that required another round of commissioning and deadlines.
By the time of the second edition (the contract was signed in 1996), Charlotte had standardized the formatting. For example, she converted all of the electronic files to the same word processing program. Her editing task was significant for this volume that had swollen to some 1.5 million words: she provided running headers (often for her own copy-editing purposes); standardized the bibliographies to meet Chicago Manual form; inserted birth-death years for non-living philosophers and year dates for discrete historical events; compiled the 'see also' lists that follow each entry; and small-capped entry titles where they first appeared in the text of each entry. She also made small changes in the text where the wording was either unclear or infelicitous, and made notes for author queries. She then sent the newly formatted and corrected printout of each entry to its author for approval. "She rewrote only isolated sentences or paragraphs in a handful of entries which both she and I felt needed changes only to conform to rather broad guidelines for the encyclopedia," Lawrence Becker says.
The second edition also suffered calamitous interruptions. In 1999, the work was interrupted for nearly the whole year by a succession of unexpected illnesses, a death in the family and a fire (caused by lightning) that destroyed the second floor of the Beckers' house. They lost many books, virtually all of the paper records of the first edition, and lived elsewhere while the house was being rebuilt. Fortunately, all the records and data for the second edition were saved.
The critical notices have been positive. Philosophers like it and use it. Libraries stock it. Reviewers have been mostly generous, even if they had specific quarrels with some articles or some editorial decisions. Both editions won prizes from library journals.
Ultimately, the value of such works is personal. Few readers – even those with near infinite time on their hands – treat encyclopedias as 'beginning to end' books. Instead, they skip around. I went to the entries on 'duties to self,' 'self-deception,' 'sports,' 'internalism-externalism,' and on to any number of philosophers – including Joseph Butler, Michael Martin, Jean-Paul Sartre and the Earl of Shaftesbury – who have written on these topics. Thus far I have found everything I've looked for.
© Kenneth Shouler 2004
Kenneth Shouler was managing editor and writer for Total Basketball: The Ultimate Basketball Encyclopedia (Toronto: Sports Media Group, 2004). He teaches philosophy at Iona College.
• Encyclopedia of Ethics, 2nd edition (New York: Routledge, 2001) $295.00 hb.