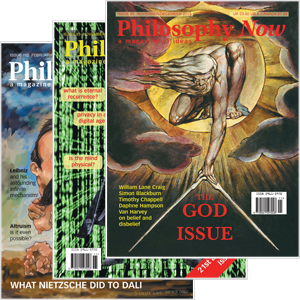 Your complimentary articles
You've read one of your four complimentary articles for this month.
You can read four articles free per month. To have complete access to the thousands of philosophy articles on this site, please
Articles
"Memorable Philosophy Professors I have Known"
From time to time we'll be publishing reminiscences about philosophers, selected and compiled by Dana Cook.
Struggling with his thoughts
"I attended Wittgenstein's lectures [at Cambridge University], which were on the philosophical foundations of mathematics, in the Lent term of 1939….
"…his dress was as simple as possible. He always wore light grey flannel trousers, a flannel shirt open at the throat, a woollen lumber jacket or a leather jacket. Out of doors, in wet weather, he wore a tweed cap and a tan raincoat. He nearly always walked with a light cane. One could not imagine Wittgenstein in a suit, necktie, or hat. His clothes, except the raincoat, were always extremely clean and his shoes polished. He was about five feet six inches in height and slender.
"Wittgenstein sat in a plain wooden chair in the center of the room. Here he carried on a visible struggle with this thoughts. He often felt that he was confused, and said so. Frequently he said things like 'I'm a fool!', 'You have a dreadful teacher!', 'I'm just too stupid today'. Sometimes he expressed a doubt that he would be able to continue the lecture, but only rarely did he give up before seven o'clock.
"It is hardly correct to speak of these meetings as 'lectures', although this is what Wittgenstein called them. For one thing, he was carrying on original research in these meetings. He was thinking about certain problems in a way that he could have done had he been alone. For another thing, the meetings were largely conversation. Wittgenstein commonly directed questions at various people present and reacted to their replies. Often the meetings consisted mainly of dialogue. Sometimes, however, when he was trying to draw a thought out of himself, he would prohibit, with a peremptory motion of the hand, any questions or remarks. There were frequent and prolonged periods of silence, with only an occasional mutter from Wittgenstein, and the stillest attention from the others….
"Wittgenstein was a frightening person at these classes. He was very impatient and easily angered. If someone felt an objection to what he was saying he was fiercely insistent that the objection should be stated….
"Wittgenstein was always exhausted by his lectures. He was also revolted by them. He felt disgusted with what he had said and with himself. Often he would rush off to a cinema immediately after the class ended. As the members of the class began to move their chairs out of the room he might look imploringly at a friend and say in a low tone, 'Could you go to a flick?' On the way to the cinema Wittgenstein would buy a bun or cold pork pie and munch it while he watched the film"
from Ludwig Wittgenstein: A Memoir, by Norman Malcolm (Oxford University Press, 1958)
Into Plato's Cave
"Philosophy always fascinated me, studying and reading about great thinkers….
"Professor Desan is a rare man. Our class was huge; everyone obviously had heard so much about him they wanted to be a part of his life. He is a small man, keen-eyed, and quick-witted. One couldn't stop long enough to concentrate on his physical appearance because he kept growing taller as he talked to you. About the middle of the term he dubbed me the 'Pascalian Woman,' woman of faith. That I am; I kept the faith that I could make it through Georgetown University.
"My mind and eyes were really enlarged when Desan took us into Plato's world. I entered 'the Cave.' But the more Desan said about it the worse I got. Nothing was wrong with Plato, Desan, or 'the Cave.' It was Pearl. Now, older, I'm back into Plato's Republic. Either Plato is now explaining it better or I'm understanding him better. 'The Cave,' to me is life; lived." (Washington, D.C., early 1980s)
from Between You and Me: A Heartfelt Memoir on Learning, Loving and Living, by Pearl Bailey (Doubleday, 1989)
First intellectual
"…This semester [at University of Missouri] I'm studying Logic with Dr Jay William Hudson. He fascinates me! He is 58 years old, only about five feet tall, has a deep bass voice, smokes a curved Sherlock Holmes pipe seemingly as large as himself. Finding a biography of him, I learned that he earned his doctorate at Harvard, has served as president of the Western Philosophical Association, is married to a Frenchwoman and has written many books, some fiction, some non-fiction. He is the first certified intellectual I ever met and he scares the hell out of me. He has a dry wit that I admire. The first class I had with him he talked the whole hour, concluding with these words: 'I won't always speak as long as I have today. Yet I am glad that I did talk as I did, for if I hadn't taken up all the time by raving on, you folks would have had a chance to say something. I would much rather hear myself talk than listen to you talk. I am really much more interesting to myself than you are to me.'" (1932)
from A Diary of the Century: Tales from America's Greatest Diarist, by Edward Robb Ellis (Kodansha International, 1995)