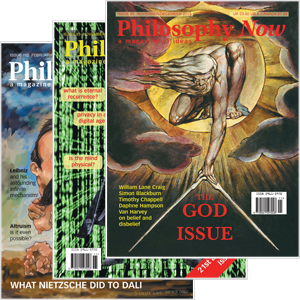 Your complimentary articles
You've read one of your four complimentary articles for this month.
You can read four articles free per month. To have complete access to the thousands of philosophy articles on this site, please
Fiction
Jean-Paul & Simone In The Digital Age
Vivian Todini imagines a modern existential dialogue.
From: Jean-Paul Sartre (jps@hotmail.com)
Sorry I'm so late in replying to your email, but I got caught up in Facebook. The false sense of intimacy in that communal space pulls me in. It plays with my consciousness. I know I have free will, but I just can't seem to stop.
From: Simone de Beauvoir (castor@cafe.fr)
I am going to cancel your Facebook account. Between that and the Xbox, I am getting concerned that it will cut into your time for the luxury of contemplation – a bourgeois concept, but useful nonetheless.
From: Jean-Paul Sartre (jps@hotmail.com)
Actually, this postmodern cyber-engagement makes me contemplate even more. I am concerned whether posting on Facebook is spontaneous action, or spontaneous emotion, or simply a spontaneous form of accessible expressionism. Would you be so kind as to jot down a few thoughts related to that to jump-start an essay on this for me?
From: Simone de Beauvoir (castor@cafe.fr)
Jean-Paul, mon ami. If I continue to compose for you, how am I supposed to get away from being known as the midwife of your existential antics? Plus, I am still fiddling with how to download my Word files onto my iPad. These new Apples are très ingénieux, almost as fecund with opportunity as the real fruit. By the way, why do you keep changing your relationship status on your page to 'married'? I thought we agreed that we are radically free to do as we please with whomever we please?
From: Jean-Paul Sartre (jps@hotmail.com)
Ma chérie, you are right. Remind me tomorrow, and I will change my status to 'single'. But, isn't having the freedom to choose how you spend your time – like being a scribe for my thoughts – or living without symbolic metrics, such as 'single' or 'married', the nexus of women's liberation? So, can you write a few words for me, please!!! And, thank you for tweeting for me today.
From: Simone de Beauvoir (castor@cafe.fr)
Did you like it? I love the TinyURL. It's so easy to use. And, I put hash tags on all the key words that we want people to find when searching. It's important that your name and ideas come up before and more frequently than Foucault's. And when you do the live online debate with him next week, try and talk in soundbites. It really helps.
From: Jean-Paul Sartre (jps@hotmail.com)
Soundbites! That's what Nietzsche was talking about in Daybreak: "the man of knowledge should learn how to speak his wisdom: and often in such a way that it sounds like folly!" He was so prescient. He should have been a talk radio host… I used to remember that quote by heart, but now I had to Google it to find it.
From: Simone de Beauvoir (castor@cafe.fr)
Nietzsche schmietzche. Don't forget how much Paxil he needed. So much hand-wringing. Now, I need your advice. I am doing a Skype tonight with the Chancellor of the Sorbonne. He thinks that I need to be on-site to teach. I don't. So, I'm going to rustle up a Hegelian cocktail and argue that I don't fear the risk of alienation from my students. Clearly, as a visiting scholar I can teach all my classes online without affecting the nature of knowledge or creating an epistemological juggernaut. Don't you agree?
From: Jean-Paul Sartre (jps@hotmail.com)
Oui, oui! I actually think that being there in person is a catalyst for greater alienation, because as a woman, you know the focus will be on what you wear rather than what you say. Anyway, what is the meaning of existence if one can't be present in many forms?
From: Simone de Beauvoir (castor@cafe.fr)
D'accord! I know you are one of the most famous atheists, but I swear when I was listening to my iPod just before, I kept thinking that its circular menu is somehow related to infinity. I got so caught up in it the concept of eternity that I had new thoughts, about whether Adam really came before Eve, and whether Sonny could have made it without Cher. So, I started listening to the same Bach piece over and over again, and that made me think about how people played the Beatles backwards.
From: Jean-Paul Sartre (jps@hotmail.com)
I knew you'd love the new Nano. Gotta run. Text me when you get home.
© Vivian Todini 2012
Vivian Todini lives in New York and says she is a Luddite at heart.