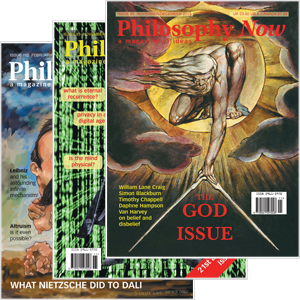 Your complimentary articles
You've read one of your four complimentary articles for this month.
You can read four articles free per month. To have complete access to the thousands of philosophy articles on this site, please
Articles
The Many Faces of Friedrich Nietzsche
Over the last century, the works of this controversial German philosopher have influenced a remarkably diverse collection of people and he has been claimed as a friend by all sorts of movements which have very little else in common. Here is a handy at-a-glance guide to a few of the many faces of Friedrich Nietzsche.
Why feminists should take to old Freddy is at first sight something of a puzzle. Nietzsche was a notorious misogynist and was given to producing unfortunate aphorisms such as "Are you visiting a woman? Do not forget your whip!" Nonetheless Nietzsche has some fervent admirers among 20th century feminists including Luce Irigaray. Much feminist thought is concerned with examining the (male-dominated) power structures of society. Nietzsche was a radical and perceptive thinker on matters to do with power, which explains the feminists' interest.
Nietzsche the Existentialist
Nietzsche was claimed as a kind of proto-existentialist in a 1936 book by one of existentialism's founders, Karl Jaspers. Nietzsche said we generally base our lives on attitudes and ideas which we would reject if we ever examined them closely, and that this is an inauthentic way of living – we should revise our values so they correspond to the things we really believe.
Nietzsche the Anarchist
Back before the First World War, Nietzsche was very popular among left-wing anarchists and other radicals. They wouldn't have approved of Nietzsche's elitism and contempt for the masses, but were impressed by his attacks on conventional morality and the existing social order and his insistence that we must invent new values from scratch to suit our needs today.
Nietzsche the Composer
Nietzsche's father, a Lutheran minister, was very musical, and little Freddy inherited some of his talent. He composed his first snatches of piano music at the age of 10. Nietzsche later became a great friend and admirer of Richard Wagner, (composer of The Ring of the Nibelung and other light classics) although they eventually fell out. Nietzsche's first book, The Birth of Tragedy from the Spirit of Music, was widely seen as a defence of Wagner's theories. Nietzsche wrote at least a dozen short pieces of piano music, which are now available on CD (Newport Classic NPD 85513). In 1872 he sent one of his pieces to the famous musician von Bülow for comment. Von B. wrote back to ask whether Nietzsche had no better way of killing time and accused him of raping the muse of music. Discouraged, Nietzsche composed little after that.
Nietzsche and Buddhism
A central belief for Buddhists (thought Nietzsche) is that one should try to attenuate one's desires in order to avoid frustration. Nietzsche believed that on the contrary one should celebrate one's desires and attempt to fulfil as many of them as possible, with no regard for conventional morality, as a part of living life to the full. Nonetheless he respected Buddhism for taking the problem of desire seriously – he saw Buddhism as a worthy rival to his own ideas. Recently Buddhist scholars have started to repay the compliment and take an active interest in Nietzsche's writings. They point out however that Buddhism only says we should overcome negative or useless desires, and encourages the development of positive feelings such as friendliness, compassion and magnanimity. It may be slightly closer to Nietzsche's way of thinking than he realised.
Nietzsche and the Nazis
Contrary to popular belief, there is no evidence that Nietzsche was anti-semitic or that he would have approved of the Nazi Party if he'd lived long enough to see it. However, his books are a great source of snappy quotations and the Nazis plundered them extensively for stuff they could turn to their own purposes. Hitler gave Mussolini a copy of Nietzsche's Collected Works at one of their summit meetings on the Brenner Pass in 1938. Nietzsche's popularity with the Nazis owed a lot to the misguided efforts of his sister, Elisabeth, who edited his papers after his death and who was a fervent admirer of Hitler. Hint to aspiring geniuses: if you must appoint a literary executor, remember to ask first whether he/she has any strong views about invading Poland, for instance.