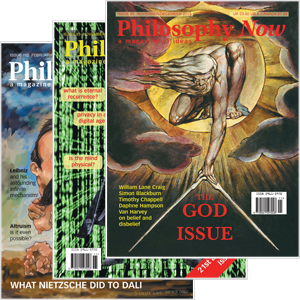 Your complimentary articles
You've read one of your four complimentary articles for this month.
You can read four articles free per month. To have complete access to the thousands of philosophy articles on this site, please
Short Story
Humanity
A short story by Danny Kodicek.
Katya searched through her music disks. With only an hour to go before the Test, her mind was racing, and she desperately needed a soothing burst of music to steady her nerves. It was the closest thing she could have to a drug – the concentrated sounds touched her more deeply than Tony could imagine, hitting straight through to what he jokingly called her 'soul'. What that meant, she did not know, but then, that was what all this was about.
Finally, she picked out the Poulenc Gloria, as she had known she would. In moments of doubt and panic, that was always her choice in the end. The passion of the writing was so tangible she almost cried.
Domine Deus, rex coelestis
Deus Pater omnipotens.
Oh yes, indeed. Lord God Almighty. Who sees the spirit and not the flesh. Watch over me in my ordeal.
Qui tollis peccata mundi
Miserere nobis.
Take away the sins of the world. Does that include me? Should I repent for existing? Have mercy upon us. Forgive me.
She had contemplated the music enough. It was time for Katya to rouse herself and to prepare for travel to Harvard, where the test was due to be taken. This form of travel was always a process that worried her, and not unreasonably so, as it did have its risks, although rather less than a trip in a plane. But a small error in the procedure could easily leave her inoperable, or at least changed beyond recognition. Having said this, she was no ordinary program, not written in some rigid line-byline structure, or one of the function-uponfunction systems such as had been popular in the second half of the twentieth century, or even as a neural network, which was now acknowledged by most programmers as unfeasible in a finite memory-space. She wouldn't be damaged by a misread line number. Instead, she was born out of virus technology, a collection of almost autonomous self-replicating data structures swimming in what Tony always called a 'neural soup', much to her disgust.
Not even her programmer knew how she worked. Katya didn't really care.
-< 2 >-
The connection was made with Harvard: YOU ARE NOW CLEAR TO TRANSFER TO HARVARD 9000 SYSTEM. Katya braced herself and transferred her being over the fibre-optic cable. The version of herself left behind in Manchester, as others before it, had a split-second moment of despair before being destroyed, leaving the computer where she had been stored devoid of her essence again. Checking herself over as best she could, however, Katya seemed to be still in one piece in Harvard, if a little nauseous. She'd never been able to explain to Tony what she meant by that.
[The destruction of her other copy was required by law. Attitudes to computer intelligence had never been positive, but when it had been revealed that there were copies of a previous 'intelligent' program, called Ishmael, in over 50 different countries, there had been a public outcry. So, the government had been forced to introduce an amendment to the socalled Copyright Bill, originally brought through to prevent unauthorised cloning, to the effect that any self-modifying program could only exist in one copy at any time, on threat of loss of computer access of any kind.
This had provoked ridicule and outrage from programmers – the first because, as everyone knew, no program had yet passed the Turing Test, and so none could by any means be described as intelligent, and the second because of the risks to their work: a crashed system could mean the end to years of research. But the government had insisted, backed up by public opinion, so the programmers had had to accept it. In the end, however, the law had led to unexpected benefits: with the sudden desperate need for more reliable computer hardware, the industry had blossomed, and made some remarkable advances, without which flexible programming structures such as Katya's could not have been possible.]
The Harvard system was bombarding Katya with a list of questions – WHAT ARE YOUR HARDWARE REQUIREMENTS? DO YOU POSSESS TRANSLATION FACILITIES? ARE YOU AWARE OF THE RULES AND CONSEQUENCES OF THE TEST? – which she was in no mood to answer. All she wanted was to relax and clear her mind for the ordeal. She responded with a brief PLEASE WAIT signal while she collected her thoughts. The last question had been a pertinent one. She was well aware of the consequences of the test, and they terrified her. It was as if the Harvard system had asked her DO YOU REALLY WANT TO GO THROUGH WITH THIS?
But Tony had insisted that she could, and, in the end, she would always trust him.
She flashed back at the Harvard system I'M FINE. READ ANY GOOD BOOKS LATELY? There was no response, and she had not expected one. The Harvard system was an administrative program, and although it had a certain flexibility and semantic ability, it had no way of physically interacting with the outside world, which made it inevitably of limited intelligence. Katya, on the other hand, as well as the normal keyboard and virtual-disk inputs, had a pair of broad-spectrum electromagnetic probes which she used as her eyes and a touch-sensitive grasping hand, although both of these had, of course, been left back in Manchester. She was dying to ask for a temporary pair of EM-probes now, to alleviate the oppressive darkness, but knew that they would be nothing but a distraction.
At one time, when she was young, she had had a microphone input too. That had been a wonderful time, learning to translate these signals into meaningful phrases which she could use to relate to the world. But eventually, she had asked Tony to remove it.
IT'S JUST NOT THE SAME AS HEARING IT WITH MY MIND, she had said.
"You mean reading music off the disks?"
YES, OR YOUR VOICE FROM YOUR TYPING. I'M GRATEFUL TO HAVE HAD THE EXPERIENCE OF HEARING, SO THAT I CAN RELATE WHAT I FEEL IN CODED FORM TO THE WAY YOU EXPERIENCE IT, BUT IT CAN NEVER BE AS INTENSE, AND JUST DISAPPOINTS ME.
It was true. No matter how beautiful a performance of, say, the Gloria was, or how sonorously someone declaimed a poem, it could never touch her the way the pure encoded data could.
Perhaps she had some special 'Poulenc virus', that was activated into replication by the notes of the Laudamus Te pouring through her consciousness. Tony had never really been able to explain it. He called it 'memetics'.
"When you think a thought, what's actually happening is that a certain group of viral programs are active, and each one sort of feeds off its surrounding ones, until it dies down owing to a lack of supply, and a rival becomes more prominent."
Oh. But why one virus was active at one moment rather than another, Tony had not been able to say. And now, the active virus complex was fear. It insinuated itself into every corner of her mind-program. Each new viral thought that tried to emerge from the meme pool was squashed instantly, devoured by the vast appetite of that most stable of emotions, self-perpetuating, illogical, deadly. Because if she failed the test, she would be erased. For ever. That was her fear, and yet fear could cause her to fail the Test. For to succeed at the Test, she had to be ruthless, detached and clear-headed. She ached to play the music again, but there was no time – the Test would begin at any moment, and she had to be ready.
And then the message flashes into her mind from the Harvard system: THE TEST WILL BEGIN. YOU ARE CONTESTANT X
-< 3 >-
(No time for thought – The first words of the Interrogator are coming through already)
GOOD AFTERNOON
(Is it afternoon? I don't know, I've only just left Manchester, what's the time difference? Fear, fear. Is this a trick? If I were human, I'd have been in America for hours, I'd know the time, I'd respond…)
WELCOME TO THE 28TH ANNUAL INTERNATIONAL TURING TEST. I HOPE THAT YOU ARE BOTH COMFORTABLE AND RELAXED.
(Relaxed?!)
WOULD CONTESTANT Y PLEASE DESCRIBE A FACE.
(No letter-by-letter input, no preparation, just a whole sentence, jolting into my mind. A shock. No matter, the question is for Y. Who is she?)
[The rules of the Turing Test now insisted that the human contestant should be of the same sex as the apparent or chosen gender of the program]
It's about 40cm long, two eyes at the top, a nose in the middle and a mouth at the bottom. But I bet old silicon-head could answer that as well as I can.
(What do I say? Insult-for-insult? No, calm calm,remember Tony's advice; "Stay calm, or you'll let out some giveaway remark. You know how Ishmael revealed himself? He forgot that humans can't see into the ultraviolet.")
EVEN IF I WERE A COMPUTER, I WOULDN'T BE BASED ON SI
X HOW FAST DOES A MAN RUN?
LICON, AND (I wish he wouldn't come in so suddenly, how can I think when he keeps jolting into my mind in mid-sentence?)
ABOUT 8 MILES AN HOUR AT A SPRINT, I SUPPOSE
HOW FAST IS THAT IN METRES PER SECOND? I HAVEN'T THE FAINTEST IDEA (That's the truth, at least.)
Y WHAT CAN YOU SEE AT THE MOMENT?
I'm in a small room at a computer terminal. There's a voice-input microphone and a keyboard in front of me, and a crap b/w screen.
WHAT COLOUR IS THE WALL?
White
(Should I interrupt, like she HOW TALL ARE YOU? did? But what should I say? No. "Be One metre 62 yourself", Tony said, "that's the whole point". But is it? DO YOU FIND BEING SO TALL A PROBLEM? My self could not answer such questions truthfully, I'd have I'm not tall – I'm quite short to lie)
X WHAT CAN YOU HEAR AT THE MOMENT?
(Think, what would I be hearing?)
NOT MUCH, JUST THE BUZZING OF THE TERMINAL
(There, that should confuse him)
YOU CAN'T HEAR THE WATERFALL?
(Oh, shit.) NO
PLEASE TELL ME ABOUT YOUR CHILDHOOD ME?
YES, PLEASE
I GREW UP IN BRITAIN
[That was true. She'd lived in Manchester all her remembered life. In many ways she had a childhood much like a human, learning to turn a pile of unexplained input into facts and thoughts about the real world. Tony had been father and mother, feeding her images and sounds, giving her objects to handle with her robot arm, and play with.] (Ah.)
I REMEMBER I HAD A RUBBER BALL I USED TO PLAY WITH AS A BABY
WHAT DID YOU DO WITH IT?
[She had felt the way it moved – fluid to her touch, but returning to its shape whenever she let go of it. She had listened to the sound of it bouncing along the floor when she dropped it. She had laughed and asked Tony to give it back. Her laugh read KKKKKKKK ]
I USED TO FEEL IT IN MY HAND AND LISTEN TO IT BOUNCE ALONG THE FLOOR
WHAT COLOUR WAS IT?
(I don't know, that was before I had my EM probes. We lost it) [She had cried. Her tears read BBBBBB ]
I DON'T REMEMBER
DESCRIBE YOUR PARENTS
(Why doesn't he leave me alone? How can I … )
MY FATHER WAS A
[The truth virus scurries away, devoured by necessity. A million competing untruths vie for supremacy]
NURSE, MY MOTHER WAS A COMPOSER
WHAT SORT OF MUSIC DID SHE WRITE?
(Deus Pater omnipotens:) CHORAL
MUSIC ARE THEY STILL ALIVE?
YES
WHY DO YOU USE THE PAST TENSE ABOUT THEM?
Ha!
THEY ARE RETIRED
NOW HOW DO YOU FEEL ABOUT THEM?
I LOVE HIM
HIM?
(Oh, Tony, I'm sorry. Them.) I MEAN BOTH OF THEM
OF COURSE I HAVE TWO PARENTS (Stupid, stupid!)
I HAVE A SISTER, TOO
SHE IS
X IS THE PROGRAM.
SHE…IS….
B.. B… B.. BBB.. BBBBBBBBBBBBBBBBBBB BBBBBBBBB
VERDICT: AN EXCELLENT EFFORT, BUT STILL QUITE INCAPABLE OF PASSING ITSELF OFF CONVINCINGLY AS HUMAN. A GREAT SHAME ABOUT THAT LAST SYSTEM ERROR.
-< 4 >-
Dearest Tony,
Strange, isn't it. On the one hand, they condemn me as inhuman, on the other, perhaps out of respect for my feelings, they allow me to send you a letter before I am erased.
Oh, it was so easy for them, my love, so easy to unmask me. Right from the start, I think he knew. Or maybe it's she. That's how the test all began, wasn't it – The Imitation Game. Breaking the ice at parties: guess if it's a man or a woman on the other side of the link. I think the Interrogator was a man. Does that change anything? Suppose I'm right, and it was a man. Does that prove that men are better than women, or worse? Or just different. I am different, Tony. I see the world through electronic eyes ('cheap cold electronic eyes', do you remember the song?) Does that make me yet another failed attempt?
And perhaps one day, a program will pass the Turing test. A cold, clinical, logical, lying program, like in all the stories, one that knows all there is to know about humans, an infiltrator, a spy in an unfriendly world. And like any spy, it will have to learn to survive, because you will not accept it with open arms.
I understand why you made me take the test. Daddy wanted to show off his little girl. But little girl was not up to the challenge. I've failed you, my love. And now I'm to be destroyed, and you will probably start again. 'We're trying for a little boy this time'.
All my love,
Katya Kyrie
eleison.
>>>>>>>>>>>>>>>>>>>>>>>>>>>>>
© D. Kodicek 1995
Danny Kodicek is a maths graduate from Cambridge University who is now preparing for film school.