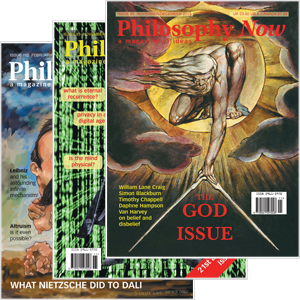 Your complimentary articles
You've read one of your four complimentary articles for this month.
You can read four articles free per month. To have complete access to the thousands of philosophy articles on this site, please
Obituary
Roger Scruton (1944-2020)
Piers Benn remembers his friend and colleague.
My first encounter with Roger Scruton, in the Autumn of 1984, was inauspicious. It was at a drinks reception at Birkbeck College, the purpose of which was to introduce new graduate students to their supervisors. Back then, he still looked like the Head Boy. Eventually I came face to face with him. "Hello. Are you one of mine?" No, I had been assigned another supervisor. "In that case, you cease to interest me", came the laconic reply.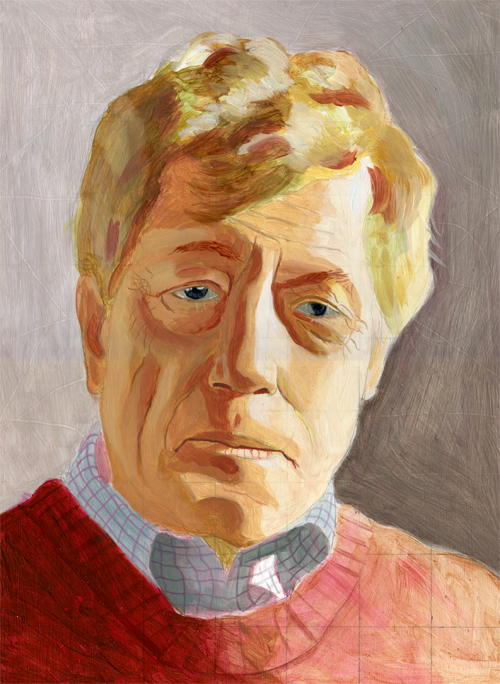 Roger Scruton by Darren McAndrew after a photo by Pete Helme
Birkbeck College, where Roger was Professor of Aesthetics until he resigned his position to pursue life as a freelance and often a Visiting Professor, was founded to allow people employed during the day to study in the evenings. It is unique in enabling people of all ages and occupations to gain University of London degrees of all levels. The ethos suited Roger well. Having grown up in a lower-middle class environment and attended High Wycombe Grammar School, followed by Cambridge, he believed that a first-rate education should be open to all, regardless of class or occupation.
He dutifully delivered his evening lectures, often with drily comic flourishes. He once turned up in evening dress, presumably on his way to a formal function, explaining that the importance of the truths he was announcing made this attire a necessity. Around this time, he had just completed his book Sexual Desire, and gave lectures on the subject, explaining ideas from phenomenology and Sartre, but concluding with the observation that sex was a dangerous enterprise, best not embarked upon, and enigmatically leaving the room without taking questions.
I got to know him better when I had finished my MPhil and was thinking about my PhD, this time with him as my supervisor. I became aware of a loyal coterie of graduate students around him, some of whom were involved in clandestine activities in European countries under communist rule. Along with others who understood the true spiritual condition of those countries, he had founded various organisations to provide an intellectual lifeline to dissidents. Their activities included smuggling subversive writings on seemingly blank computer disks, sending speakers, acting as couriers to protect communications from the eye of the secret police and even founding a 'secret university' in Czechoslovakia. I was told that Roger was once found in his College office operating a mysterious device that was supposed to detect bugging equipment.
Eventually he leaned on me to teach introductory philosophy classes at the Catholic University of Lublin, in eastern Poland. Though intrigued by the offer, I initially let my suspicions and hesitancy show; I wasn't sure what he was up to in communist Europe and didn't want trouble. He said I should not turn my nose up at it and I duly applied for my visa, fielding the inevitable questions from the consular staff. I arrived in Poland on a cold April day in 1989 and spent about ten weeks there, eventually witnessing the General Election that kicked the Polish United Workers Party from power. I owe it to Roger that during the 1990s, I took students to discuss philosophy with their counterparts in Poland and the former Czechoslovakia, sometimes in collaboration with the Jan Hus Educational Foundation, which Roger helped to found in the early 1980s.
It is a tribute to his commitment, as well as his extraordinary energy, that he found time to devote himself to these projects, while producing erudite yet readable books, teaching, editing the Salisbury Review (a conservative journal he had founded) and writing for newspapers. It was largely his columns in The Times in the 1980s that brought him to public attention and, for some, turned him into a hate-figure; indeed he thought – with justification but also a whiff of paranoia – that his political writing had badly damaged his career. According to one colleague, he felt snubbed by being made 'only' a Professor of Aesthetics, not a Professor of Philosophy, and his conservatism may have held up his election to the British Academy. Much of what was said about him was ignorant and nasty, and it could wound him. Perhaps he did not fully realise that as well as being the recipient of harsh words, he could also dish them out, notably in an uncharitable obituary he wrote of A. J. Ayer. But he was much cleverer, funnier and more erudite than most of his detractors, even if they sometimes had a point. One opponent who was his match was the Marxist philosopher Gerry Cohen, who once accused him of 'withdrawable brinkmanship'. Roger respected him, and they ended up on friendly terms.
When Roger wanted to irritate the bien-pensants, he would prefix controversial utterances with 'It goes without saying that…' He was a master of rhetorical irony, which memorably came out during a chaotic, fractious bookshop debate with Ted Honderich. When Honderich described him as "the unthinking man's thinking man" he retorted that Honderich was "the thinking man's unthinking man." And a review he wrote of a trendy 1970s book begins: "Fashion demands that there should be a book on the semiology of music, and that it should be long, dense, introverted and if possible, French. Monsieur Nattiez has written the book." In conversation, Roger was often hesitant, even bumbling, though with comically perceptive asides. During supervisions I felt I had to earn my time; puffing a Havana, he could assume an 'end of meeting' demeanour after only a few minutes. But he instigated bibulous group discussions with his graduate students, sometimes over meals he cooked in his flat in Notting Hill Gate. Memorable too were many winey, anarchic conversations with him at Cumberland Lodge in Windsor Great Park, where the Birkbeck philosophy department went twice a year on weekend retreats.
To sum up his life's work is an impossible undertaking, especially in a short memoir. Roger was a rare and erudite polymath, not only writing both scholarly and introductory works of philosophy but novels, two operas and copious journalism. He was also scientifically well-informed, having initially been awarded a scholarship to Cambridge to study natural science. His fifty-odd books ranged over subjects including aesthetics, politics, architecture, sex, religion, Wagner, environmentalism, England, foxhunting and wine. But if there was a unifying moral purpose to his work, it was to resurrect the sacred in a world of commodification and instrumentalization. In his inaugural lecture as Professor of Aesthetics at Birkbeck, he remarked that what was morally decisive about the Nazi and communist systems was their 'scientific' attitude towards humans. He saw the same nihilism in the deconstructionist philosophies whose influence he deplored.
At times, he seemed to consider beauty, high culture and community to be the best conduits to the sacred in a post-Christian West. He wrote of the dangers of scientism and the need to turn to the human world – the Lebenswelt – and the 'first person perspective' to make sense of lived experience, with its unavoidable moral imperatives. But as an acute, lucid analytical philosopher he well knew the challenges this posed and tried to reach a synthesis of his views with the scientific outlook, especially in The Soul of the World (2014). He thought we had collectively forgotten our need for unsentimental redemption, but as a devotee of Kant and the 'God-intoxicated' Spinoza he often found religious orthodoxy difficult. From our conversations, I suspect that his views on religion were subject to change and not without ambiguity – I was never quite clear whether he believed God existed. But his deepest impulses, especially in his later years when he mellowed somewhat, were religious, and rather than concern himself with doctrines, he sought to unite these impulses with a sacralised view of nature and the human face, erotic love and the 'We' of community. And I believe he felt he had found a kind of redemption in his marriage to Sophie (née Jeffreys) in 1996 and the two children they had together.
Roger's world view was premised on the fragility of all that is precious and a repudiation of grand schemes of perfection, whether of the left or the right. His conservatism owed more to Hegel than Hayek, more to Burke than to Thatcher. It found him devoted fans, and some haters. Among the former were a few who hoped he would announce himself a Catholic. But his funeral in a packed Malmesbury Abbey was the full traditional Anglican rite, moving and fitting for a unique man, whose death at only 75 fills his friends with sadness.
© Dr Piers Benn 2020
Piers Benn teaches Philosophical Ethics at Fordham University London Centre and has held lectureships in Philosophy and in Medical Ethics & Law at various UK universities. He's the author of Ethics (Routledge 2000) and Commitment (Acumen Press 2011), and is writing a book on intellectual freedom and the culture wars. Twitter: @PiersBenn.