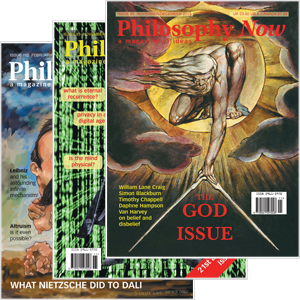 Your complimentary articles
You've read one of your four complimentary articles for this month.
You can read four articles free per month. To have complete access to the thousands of philosophy articles on this site, please
Editorial
The Philosophical Life
by Rick Lewis
August 25th 2000 was the centenary of the death of Friedrich Nietzsche. This was obviously too momentous an occasion to pass unmarked by Philosophy Now, so I was delighted when H. James Birx offered to edit a special issue devoted mainly to old Freddy. He has put together a fascinating selection of articles on all aspects of Nietzsche's life and work. His own introduction to this issue is on page 7.
What is it that fascinates so many people about Friedrich Nietzsche? Is it the moustache and the intense staring eyes? Is it his dramatic and extravagant writing style, so startlingly different from the turgid obscurity of so many of today's philosophers? Or his refusal to be satisfied with superficial answers and his insistence on getting to the core of things, whatever the cost? Or is it his tragic fate – unlucky in love, restlessly wandering Europe dogged by ill-health until slipping into permanent insanity at the age of 44? Nietzsche pre-collapse was the James Dean of philosophy – too fast to live, too young to die. But he is a striking example of someone who lived the philosophical life to the full, and for that reason alone would be worth a special issue.
If Nietzsche seems a very modern philosopher, as he does, that is partly because the modern philosophical world has been so strongly influenced by him, and partly because he saw the way society was going and looked ahead to deal with very modern problems. He was also, of course, the philosopher of the 'eternal recurrence', believing that history repeats itself endlessly. Celebrating his various recurring anniversaries therefore seems particularly appropriate and I hope we'll carry on doing so!
Actually we are also celebrating another anniversary in this issue as well. Professor Antony Flew has for years been one of Britain's leading philosophers, and has been kind enough to contribute occasional articles to Philosophy Now ever since our first issue in 1991. Antony Flew is an atheist who has thought a great deal about the philosophy of religion. His very first published paper, exactly fifty years ago, permanently changed the way people discuss the question of evidence in relation to God and religious belief. That paper has been reprinted a record forty times, and in this issue we've done our best to keep it out in front by reprinting it a forty-first time!
Essay Competition Update
Many thanks to everyone who sent in an entry for our Undergraduate Essay Contest. For anyone who doesn't know, we asked students to write an essay on a question taken from the film The Matrix. The competition deadline passed on 1 August and we are now busily judging all of the essays. This is taking some time, partly because of the sheer number of entries. There were 163 of them,coming not only from Britain, the USA, Canada and Australia but also Zambia, Hungary and Spain, among others. The standard of the entries is extremely high and many of them are a joy to read. We hope to announce the names of the winners in our next issue (Issue 30). We'll also be posting updates on our website at: www.philosophynow.org
So watch this space!