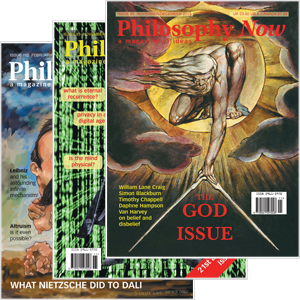 Your complimentary articles
You've read one of your four complimentary articles for this month.
You can read four articles free per month. To have complete access to the thousands of philosophy articles on this site, please
Poetry
Hegel's Last System
by Peter Lach-Newinsky
Every year I still lift the cup to'89,
but secretly in this restorative state
which my own system says is God eternal:
history temporarily over; or is it me?
I saw the small foreman of the World Soul
riding into Jena under his three-cornered hat;
fled with Phenomenology's last pages in my pocket
and lost my uni job due to his necessary wars.
Trying journalism, high school for a while,
till I finally landed a chair in Berlin
where I emptied rival Schopenhauer's halls
– the envious cad – by the sheer force of my thinking
out aloud to fill the room with majors, bureaucrats,
society ladies who liked a joke in dialect.
Every recalcitrant syllable, word, sentence
my metal voice hammers into a separate thing
squeezed from my oft-cleared throat, significant
and full of all the seriousness of its object,
which after all is God's way
of reflecting on Himself as He thinks
His way up to self-consciousness in mine,
all modelled on the logical waltz of love and life:
step one is self as I love myself a lover,
step two my self utterly estranged in the beloved
turning in three-step to find myself in her again.
Transpose this dactylic dance or sonata form
to history, and you've got a dialectic way of seeing
God unfold Himself in us now that He is dead.
For in us He is a stranger to Himself and torn,
alienation as necessary as the descent to birth
whence we arise, evolve by slow degree
to selfhood, rebellion, pure thought
that finally thinks itself into the union
it becomes here in this tight un-mothered head
exploding with words and mediations
of absolute becoming, my metaphysics,
the last attempt at such a system I proclaim
while iron and money stamp this triumphant state
with a system of fragments that has no aim,
and the ironies of cholera confirm my fate.
© Peter Lach-Newinsky 2020
Peter's last poetry book is Cut a Long Story Short (Puncher & Wattmann 2014). He also grows 120 heritage apple varieties in the southern highlands near Sydney. Blog: peterlachnewinsky.wordpress.com.