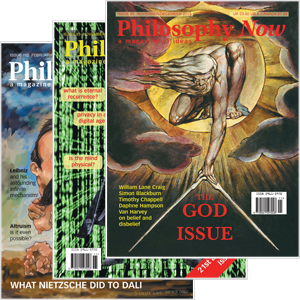 Your complimentary articles
You've read one of your four complimentary articles for this month.
You can read four articles free per month. To have complete access to the thousands of philosophy articles on this site, please
Nietzsche
Nietzsche 2000
An introduction by H. James Birx.
"Let us assume that people will be allowed to read [my work] in about the year 2000."
Nietzsche, 24 September 1886"
Friedrich Wilhelm Nietzsche has emerged as the most influential philosopher of the twentieth century, although both controversy and confusion surround his life and thought. He was born on 15 October 1844 at Röcken in Saxony, Germany. His father Karl Ludwig, a Lutheran pastor, died when Nietzsche was only five years old. Consequently, the precocious boy was raised in a household of females: his mother, sister, two aunts and a grandmother.
The young Nietzsche enjoyed music and poetry. Later, his academic research shifted from theology, through philology, to philosophy. He developed an intense interest in classical Greek culture (especially the ideas of Heraclitus) and interpreted artistic expression as the synthesis of Dionysian creativity with Apollonian individuality.
Nietzsche read Charles Darwin and Arthur Schopenhauer, befriended Richard Wagner, and became a professor of classical philology at Basel University, Switzerland, without completing a doctorate dissertation. After ten years, because of poor health and grave illness, he resigned his teaching position and, with a pension, became a solitary wanderer in the Alpine mountains of Italy and Switzerland.
With time to think and write, Nietzsche critically analyzed Western civilization and revealed the falsehoods and illusions that were pervasive within the mediocrity of modern society (as he saw it). He boldly proclaimed that 'God is dead!' and subsequently called for a rigorous re-evaluation of all values. His penetrating genius not only distinguished between the 'master morality' of creative individuals and the 'slave morality' of the inept masses, but also contributed disquieting insights into the psychological motives of Christian beliefs and practices, for example guilt, pity, and resentment.
Rejecting nihilism and pessimism, Nietzsche offered a radically new worldview that was optimistic and in step with the evolutionary movement of the nineteenth century. He held creative reality to be essentially the will to power and prophesied the coming of the overman (seeing our own species as a temporary link between the fossil apes of the past and those superior intellects that will emerge in the future).
In terms of metaphysics and ethics, Nietzsche taught his awesome and engaging concept of the eternal recurrence of the same: the endless repetition of this identical, finite and cyclical universe throughout all time. As a result, for him, each moment has infinite value and therefore one should live as if each decision is a choice made for eternity.
Among his brilliant books, Nietzsche's major work, Thus Spake Zarathustra (1883-1885), best represents his iconoclastic philosophy of perspectivism, overcoming and fulfillment. Its atheistic, this-worldly and life-affirming vision challenges an individual to accept the flux of nature and to create new values.
In Turin on 3 January 1889, while attempting to protect a horse from being beaten by its owner, Nietzsche collapsed in the street. He was diagnosed clinically insane due to tertiary syphilis. During the next ten years, first under the care of his mother Franziska and then his sister Elisabeth, Nietzsche's genius was silent. After his death on 25 August 1900, the teacher of eternal recurrence was buried in Röcken, the town of his birth. Friedrich Nietzsche has provoked serious thinkers from Karl Jaspers and Martin Heidegger to Walter Kaufmann and Richard Rorty. Furthermore, artistic figures of world distinction have been very inspired by his ideas, such as Richard Strauss in music, Thomas Mann in literature, and Stanley Kubrick in film.
Surely, it is most appropriate that this special issue of Philosophy Now commemorate the life and thought of this great and courageous thinker.
© H. James Birx 2000
Lesley Chamberlain, Nietzsche in Turin: An Intimate Biography, Picador 1999
Ronald Hayman, Nietzsche: A Critical Life, OUP, 1980.
R.J. Hollingdale, Nietzsche: The Man and His Philosophy, rev. ed., CUP, 1999.
Walter Kaufmann, Nietzsche: Philosopher, Psychologist, Antichrist, 4th ed. PUP, 1974.
Carl Pletsch, Young Nietzsche: Becoming a Genius, Free Press, 1991.
William H. Schaberg, The Nietzsche Canon: A Publication History and Bibliography, CUP, 1995.