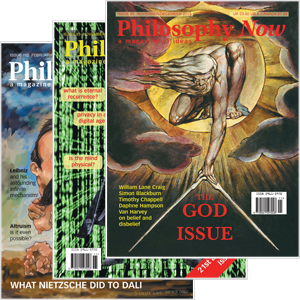 Your complimentary articles
You've read one of your four complimentary articles for this month.
You can read four articles free per month. To have complete access to the thousands of philosophy articles on this site, please
Obituary
Richard Wollheim (1923-2003)
by Lisa Sangoi
Richard Wollheim, a philosopher whose aesthetic insights are considered among the more profound of the postwar era, has died at his home in London at the age of 80. A statement released by the philosophy department of the University of California at Berkeley said the cause was heart failure. Professor Wollheim was the department's chairman from 1998 to 2002.
Rather unusually for an analytic philosopher, Professor Wollheim fused analytic philosophy, psychoanalysis and the study of painting to explore art. He coined the term Minimalism in his 1965 essay 'Minimal Art'. This term refers to monochromatic paintings and Marcel Duchamp's display of ordinary objects as art.
A larger and much acclaimed accomplishment of Wollheim was developing a new method and vocabulary for experiencing art. Professor Wollheim, exploring the ideas of Wittgenstein and Freud, claimed that art could be understood only within its total context, from history to the nature of the surrounding community, to the viewers' and artists' emotional dispositions and needs.
Professor Wollheim wrote with authority on Freud and Freudianism. He produced his own philosophy of mind in books such as On the Emotions, The Mind and Its Depths and On Art and the Mind. He also published two major works on the philosophy of art, Art and its Objects and Painting as an Art.
Richard Arthur Wollheim was born in London on May 5, 1923. He graduated from Westminster School and received bachelor's and master's degrees from Balliol College, Oxford. He served in the infantry in France during World War II and was briefly captured by the Germans. He left the Army as a captain.
From 1949 until 1982 Wollheim taught philosophy at University College, London. He then moved to the United States, teaching first at Columbia from 1982 to 1985, then at Berkeley until his retirement in 2002. From 1989 to 1996, he split his time between Berkeley and the University of California at Davis.
Professor Wollheim is survived by his wife, Mary Dan Lanier, a potter; their daughter, Emilia; and by two sons from his first marriage, Bruno and Rupert.
© LISA SANGOI 2004
Lisa Sangoi studies philosophy in New York, and is Philosophy Now's U.S. News Editor.