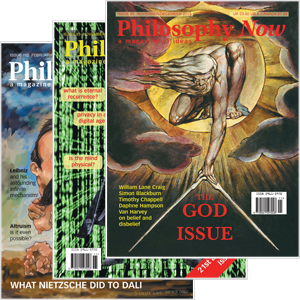 Your complimentary articles
You've read one of your four complimentary articles for this month.
You can read four articles free per month. To have complete access to the thousands of philosophy articles on this site, please
Editorial
Liberty & Equality
by Rick Lewis
"The finest opportunity ever given to the world was thrown away because the passion for equality made vain the hope for freedom." (Lord Acton)
The most famous motto of the French Revolution was Liberté, égalité, fraternité. Yet the ink was barely dry on their badly printed leaflets and posters before les révolutionnaires began to squabble among themselves about how exactly the three terms should be understood, what order they should have been printed in and whether they were even compatible with each other at all. And those disputes have continued ever since. For the trouble with any moral or political system which is built on more than a single underlying value is that you can get tension between the different things that it values. If you launch a revolution calling for all good children to be given presents and for the strict prohibition of white beards, then you will have a problem to sort out when Christmas comes around. Sure enough, it is now a very widely held view that the political ideals of liberty and of equality are in tension with each other. (Fraternité caused less conflict, perhaps because it is such a nebulous concept in the first place, though its masculine overtones did provoke Olympe de Gouges – later guillotined – to respond with her Declaration of the Rights of Woman and the Female Citizen.)
Anyway, over the years since, liberty and equality have become a well-known duo of antagonists, like Tom and Jerry. If your politics are driven mainly by a desire to promote the freedom of the individual, then you are at the very least accepting that this freedom may lead to inequalities of wealth. This is compatible with the most extensive equality of legal rights for all individuals, including individuals of different genders and races and other groups, but if your main concern is for equality of wealth and economic opportunities, then you will probably achieve it only by limiting some personal liberties (such as the liberty to move resources from one country to another; the liberty to invest for profit; the liberty to bequeath wealth to the next generation, and various others). Many people therefore consider complete liberty and equality to be incompatible, though it isn't that you simply have to opt for one or the other; most modern societies combine a greater or lesser degree of personal liberty with some attempt at reducing poverty and economic inequality. How best to combine the two ideals and to strike a balance between them, is a very complex question, so liberty'n'equality provide fertile ground for political philosophy and a good topic for this issue of Philosophy Now. But how should we put together an issue devoted to the dynamic duo? Should we give pro-liberty contributors free rein? Should we give the equality advocates equal space?
Yet, in his lead article for this issue, Professor James Sterba, a former president of the American Philosophical Association, confounds expectations with his surprising argument that the two values aren't in opposition after all. He claims that on the contrary, liberty requires equality; that adopting the ideal of libertarianism requires you, out of consistency, to be in favour of extensive programme of welfare and wealth redistribution in order to establish material equality, both among people living today and with those who will be born in the future. Phil Badger also argues eloquently for an egalitarian version of liberalism. Other contributors in our 'liberty & equality' section explore the philosophical case for personal liberty in relation to such subjects as euthanasia, democracy, fundamentalism, free speech and surveillance, but as you'll see, our guiding light in assembling this issue has been to ensure equality of outrage among you, our long-suffering readers. Whatever your own political views, I guarantee there will be an article here to annoy you.
Indeed, I myself found the conclusions of one of the articles in this issue to be as crazy as a sack full of chipmunks. No, I'm not telling you which one. But I think it did me a great deal of good to read it and to think about why despite its subtle arguments I found it absurd. Talking of absurdity, we have 'Dancing with Absurdity' by Fred Leavitt on the difficulty of knowing anything at all, and we have a Brief Life of absurdism's greatest philosopher, Albert Camus. And twice in this issue you will meet absurdity's nemesis Thomas Reid (1710-1796), the Scottish philosopher of Common Sense. So maybe the absurd forms a subversive sub-theme that we didn't even plan. How appropriate!
Festival Time Is Here Again!
On 21st November we'll be holding the 3rd Philosophy Now Festival. Like the previous two, it will involve a whole range of philosophy organisations putting on events over the course of the day. There will be lectures, panels, philosophy games, the infamous Balloon Debate and philosophy workshops for children of all ages. The event will be free, family-friendly and open to all. As in past years, we are holding it as guests of Conway Hall at their large art-deco building in central London. We realise that many of you will be unable to make it to the Festival for geographical reasons. This year we'll try to make up for this by putting more material from the Festival online, and by making it possible for readers around the world to email questions to us in advance so that they can be put to speakers. So put on a party hat, pour yourself a festive drink and settle down in front of your computer to enjoy the Festival. You will find full details on philosophynow.org/festival nearer to the time, and on our Facebook event page.